Sustainable snow management
Data-based snow management with SNOWsat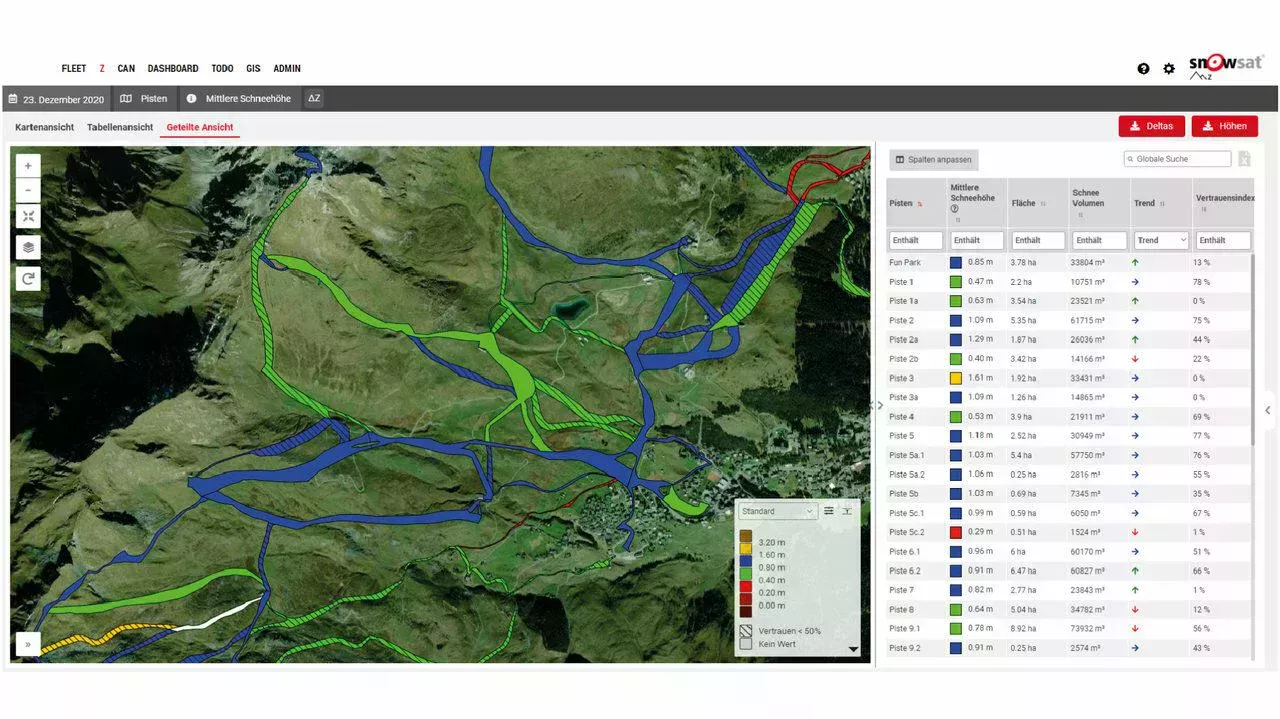 Professional snow management is the key to safe, efficient and economical ski operations and always optimal slope quality throughout the season. SNOWsat has been the reliable partner of ski resorts around the world for more than 10 years and provides the data-based decision support for this.
Great potential lies in data-driven snow management
In the beginning was snow depth measurement: it forms the basis for data-driven professional snow management. Thanks to SNOWsat, over 350 customers worldwide benefit from a real-time overview of the current snow situation on their slopes. Thanks to seamless documentation of all relevant data, you no longer have to rely on gut feeling alone. It's a perfect combination: the experience of the drivers - they know where the snow reserves are, for example - is backed up with data that then forms the basis for further optimization. In this way, everyone benefits from the data: Slope managers and snowmakers in operations, management and operations management in strategic decisions.
And with a world first, it goes even further
A revolutionary advancement here is predictive snow depth measurement - SNOWsat LiDAR. It provides the driver with real-time data on snow depth - not only under the vehicle, but in front of it (up to 50 m) and next to it. The resulting further expanded database enables forward-looking work and optimizes the use of available resources. During planning in the office as well as during preparation in the vehicle - no pile of snow remains unused.
Sustainable and targeted use of resources
One of the biggest cost factors in ski resorts is the production of machine snow. SNOWsat provides detailed information on where unexpected snow deposits are located and where the snow cover is only very thin. It determines when which snow guns need to be activated. In this way, the operating hours of the snow groomers can be optimized and snow can be produced according to demand. This is an enormous financial advantage that pays off the investment in a surprisingly short time. And all this while maintaining or even improving the quality of the slopes!
Now more than ever: secure sales!
Optimism is the order of the day! Accordingly, when we return to regular ski operations next winter, maximum efficiency and operational reliability will be even more in demand. Professional snow management is the guarantee for perfect slope quality and safe and economical operation from the first to the last day of the season.
Snow management with SNOWsat means
Basis for decision
Identify snow reserves and use them in a targeted manner
Selective and targeted snow replenishment
Optimize operating times
Produce snow according to demand
Ensure high slope quality throughout the season
Timely detection of low snow accumulation
Avoidance of dirt ingress into the slope
Sustainable slope construction
For a successful season from day one
To the product page: Snow Management