Independent adaptation of geospatial data to current conditions with SNOWsat GIS
NO EXTERNAL SURVEYING COMPANY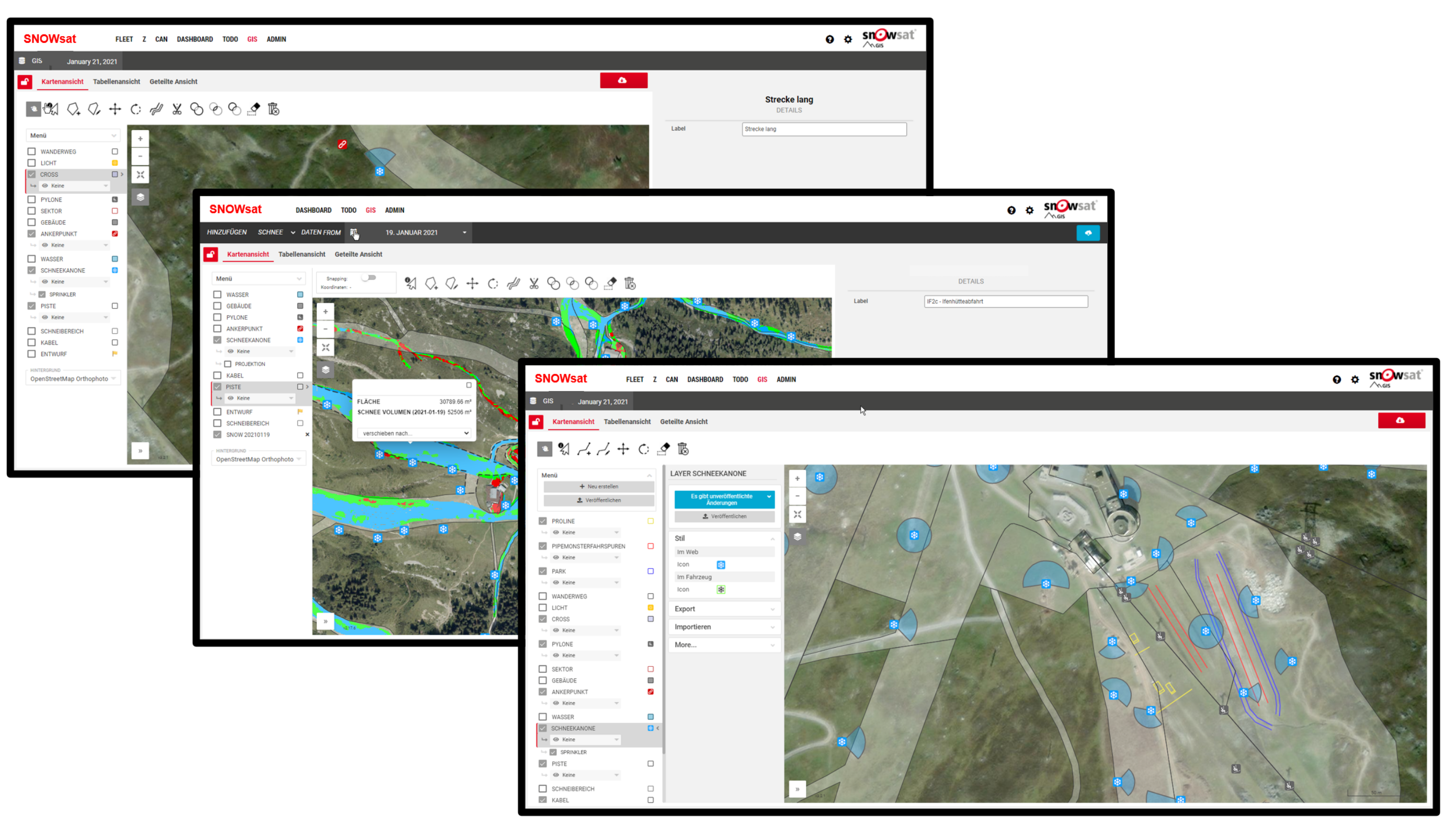 Finally, your GIS data is in your hands! SNOWsat GIS Data Manager lets you independently adjust geospatial data to current conditions: easily, flexibly and cost-effectively.
Area management is the foundation of the entire operation – in winter as well as in summer!
Whether for slope grooming, snowmaking or operational organization: the Geographical Information System of a ski area contains all the spatial data relevant to daily work, such as terrain profiles, slope surfaces and edges, anchor points for snow groomers, positions of the snow cannons and areas to be covered with machine-made snow; in addition to hazard areas, roads, buildings, footpaths, bike trails and much more. This GIS data serves as the basis for all processes on the mountain, such as construction activities, creation of snowmaking and grooming plans, and evaluations. In the past, an external surveying company had to be commissioned to manage this data. Now you can update your geospatial data yourself, easily and in real time!

Decisions based on data instead of gut instinct
With SNOWsat GIS, data points can be added manually, recorded by the snow groomer or a mobile device (e.g. surveying stick) and imported. This allows you to independently update slope surfaces and sectors to plan, evaluate and optimize snow volumes and vehicle uses as best possible! For example, vehicles equipped with SNOWsat are capable of recording anchor points or positions of snowguns and of following slope edges. The user can then adapt the existing slope edges to the recorded driving paths using the software. This way, a current map of the ski area is always available at the office and in all snow groomers – and everyone has the same level of knowledge!

Increased safety
GIS Manager can be used to mark not only positions of snowguns, areas to be covered with machine-made snow, anchor points for snow groomers and slope edges, but also hazard areas such as avalanche towers, explosive tubes and avalanche-prone slopes in the ski area. In poor visibility conditions, it is good to know where anchor points and snow cannons are located and where the slope ends. In addition, auxiliary lines or landmarks can be set. This is vital information for slope first aid teams and operators.
Easily reproduce event settings
For sporting events, there is a lot that has to be taken into account off the slope. Where does the power cable run? Where is the video screen positioned? With SNOWsat GIS, you can mark and save important points, so it is very easy to call up the setting again for coming events. This substantially reduces the amount of planning effort!
Cost savings through efficient management of time and resources
The uniform level of knowledge among everyone enables them to take the needed actions. This saves time and conserves resources, which also saves money!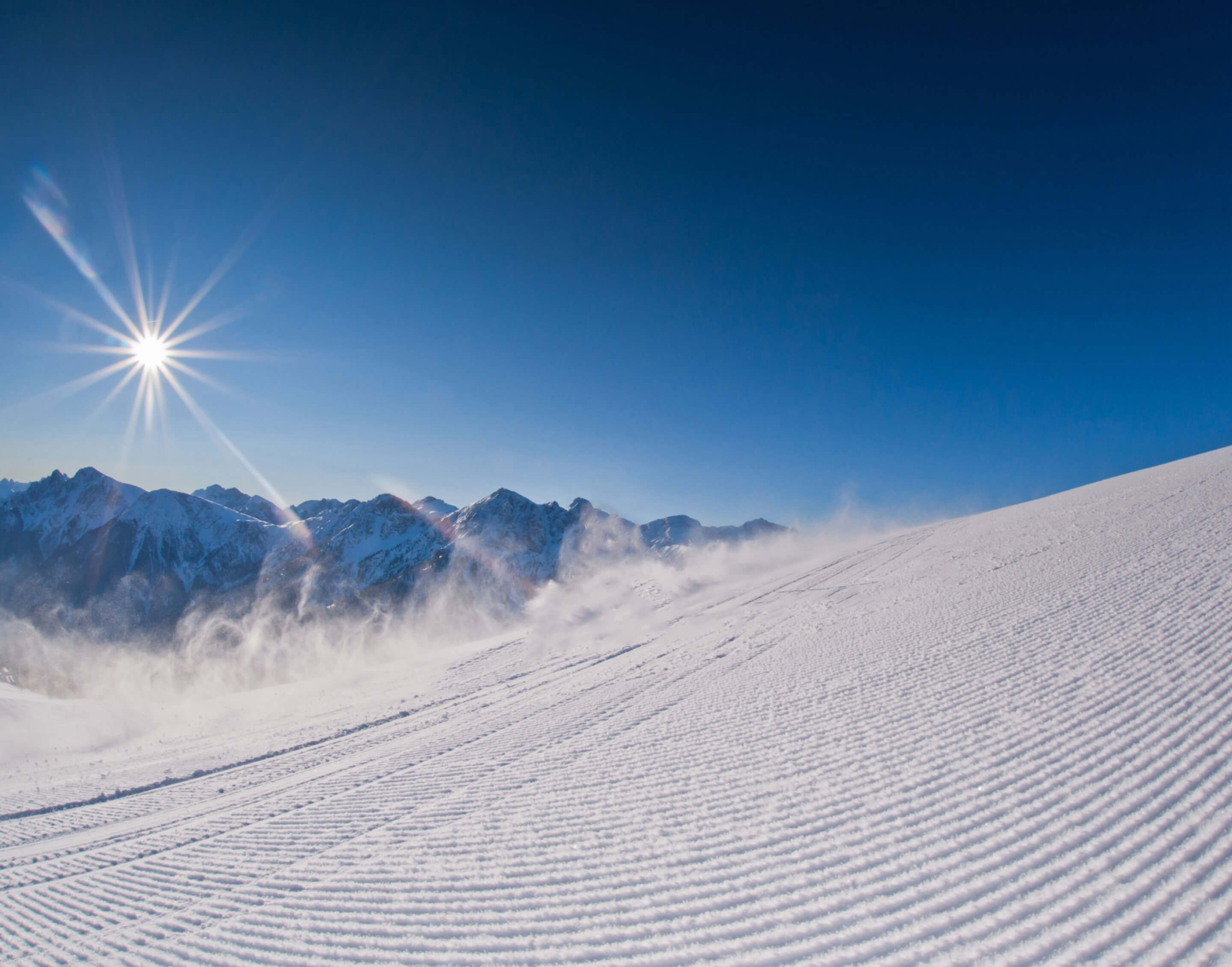 THE MOST IMPORTANT ADVANTAGES OF SNOWsat GIS DATA MANAGER
Easy, central management of all geospatial data
Always current and available to everyone
Independent adaptation of data to current conditions without an external surveying company ​ ​
Increased safety for decisions by people in charge and for the work of the operators
Fast reproducibility of event settings and attractions
Increased efficiency through uniform level of knowledge among everyone
Reduced resource consumption and operating costs
Data pool for evaluations