Dennis McGiboney Retirement communication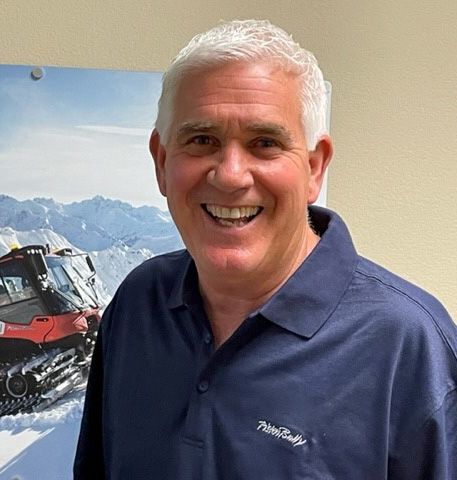 Dennis McGiboney Retirement communication:
"Dennis started his career in the ski industry as a Service Technician at Heavenly, CA, in 1977, where his love for the sport and industry started. He left Heavenly and continued to work as a Service Technician at Squaw Valley in 1982 before he started his career with Kässbohrer of North America (KNA) as a Service Technician from 1984 to 1985. In 1986, Dennis moved into the role of onsite Service Advisor at Keystone for Kässbohrer. His role was very specific and unwavering – "secure the account for Kässbohrer to sell groomers." This is when Kässbohrer discovered his talent and passion for sales. In 1987, Dennis became the Service Manager in the Grand Junction, CO, office. After a year in this role, he was promoted to a Regional Sales/Operations Manager in Oregon from 1988 to 1990. In 1990, Dennis relocated back to Grand Junction, CO, to continue his career as a Regional Sales/Operations Manager from 1990 to 1998. In 1998, he was promoted to National Sales Manager of North America under KATV and relocated to the corporate office in Reno, NV in 1999.
In 2005, Dennis was promoted to VP of Sales and Marketing and has successfully lead his team since. Dennis has been in the ski industry for 45 years, and throughout his tenure, he became the "face of PistenBully" for KATV in North America. During the past 20 years, he has led the PistenBully team in expanding KATV branch-owned locations in the Midwest (Minnesota) and Pacific Northwest (Oregon). Dennis was instrumental in restructuring and building up the dealer network we have today in the United States and in Canada. This expansion and selection of dedicated personnel has contributed to the continued success of PistenBully in the marketplace today. With years of hard work and perseverance, large accounts, including Alterra, Boyne Group, POWDR, and Vail Resorts, have been added to the long list of PistenBully customers. In addition, Dennis successfully secured marketing partnerships with SPT and Woodward (to name a few). A very memorable achievement in his career at Kässbohrer was the successful coordination and collaboration in the bid for the 2010 Olympics. Kässbohrer was the vendor that won the bid to provide grooming equipment to VANOC for the 2010 winter Olympics at Whistler in British Columbia, Canada. Over the years, he has accumulated numerous days traveling, visiting customers, and attending national and regional trade shows.
KGF and Kässbohrer All Terrain Vehicles thanks Dennis for his many years of service, and we wish him all the best in his retirement."
Mitteilung zur Beförderung von Jeb Ellermeyer:
"Herzlichen Glückwunsch an Jeb Ellermeyer zu seiner Beförderung zum VP of PistenBully and SNOWsat in Reno (Nevada) mit Wirkung vom 1. Oktober 2022. In dieser Funktion wird er dem President/CEO, Stefan Spindler, unterstellt sein.
Vor seiner Zeit bei KATV arbeitete Jeb sieben Jahre lang als Vehicle Maintenance Technician im Jackson Hole Mountain Resort sowie acht Jahre lang als Service Manager bei Prinoth. Im August 2011 nahm Jeb seine Tätigkeit bei KATV als Regional Sales/Operations Manager auf. Unter seiner Leitung gelang es, die Niederlassung Sierra erfolgreich zu stabilisieren und auf regionaler und nationaler Ebene Beziehungen zu Unternehmen der Ski-Industrie aufzubauen. Bei der Einführung von SNOWsat und PRO ACADEMY spielte Jeb eine wichtige Rolle. Im Oktober 2018 wurde er zum National Branch Coordinator befördert. In dieser Funktion war er für die Führung der Regional Sales Manager verantwortlich und arbeitete an der Seite des VP of Sales and Marketing, Dennis McGiboney. Jeb verfügt über mehr als 26 Jahre Erfahrungen in der Ski-Industrie."
Jeb Ellermeyer Promotion Communication:
"Congratulations to Jeb Ellermeyer on his promotion to VP of PistenBully and SNOWsat in Reno, NV., effective October 1, 2022. He will report to President/CEO, Stefan Spindler.
Prior to joining KATV, Jeb was a Vehicle Maintenance Technician at Jackson Hole Mountain Resort for seven (7) years and as a Service Manager at Prinoth for eight (8) years. Jeb joined KATV on August 2011 as a Regional Sales/Operations Manager. Under his management, he was able to successfully stabilize Sierra branch operation as well as established regional and national relationships within the ski industries. Jeb played a vital role in the rollout of SNOWsat and PRO ACADEMY. In October 2018, he was promoted as the National Branch Coordinator and was responsible for providing guidance and direction to Regional Sales Managers as well as worked alongside VP of Sales and Marketing, Dennis McGiboney. Jeb has over 26 years of ski industry experience."