Lasting perfect traces
Course preparation earns big praise at Oberstdorf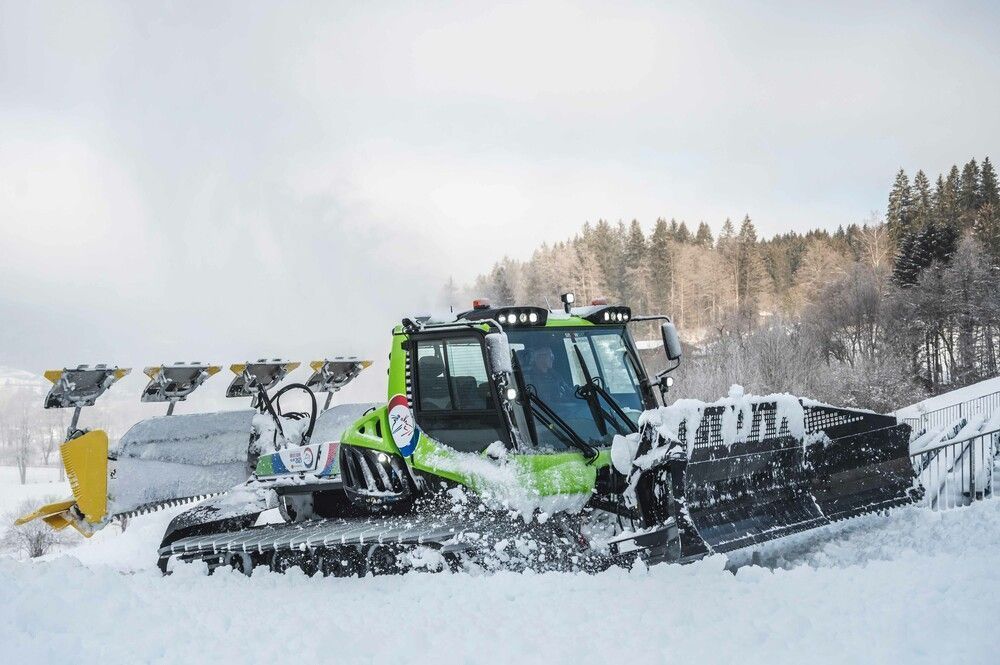 The OC of the Nordic World Championships in Oberstdorf had set itself the task of acting as sustainably as possible for sports, tourism and the environment when planning this major event. The preparation of cross-country ski trails and ski jumps played a major role in this. That's why the PistenBully 600 E+ with the latest exhaust technology was also part of the team.
Great trails - low emissions
The preparation of the World Cup course with the PistenBully 600 E+ set new standards for sustainable cross-country skiing in Oberstdorf. After all, thanks to their diesel-electric drive, these vehicles emit significantly fewer exhaust gases and run much more quietly. The combination with SNOWsat was also well received by those responsible. The sophisticated snow management system, which provides specific information on snow distribution, among other things, revealed hidden savings potential. "SNOWsat is the basis for clear communication. This enabled us to optimize workflows and routes, thus saving time and significantly reducing fuel consumption for the entire fleet," confirms Fidel Joas, who is responsible for the cross-country ski trails at the World Championships.
Top-class cross-country ski trackers
Kässbohrer further developed the AlpinFlex tiller especially for the Nordic World Championships: an extra-wide equipment rail with a 4 - folding pan tracksetter unit guarantees the minimum distance between the cross-country tracks as specified by the FIS. The finer finish profile ensures more stability in competition and thus faster and safer sprints. This was well received by athletes and groomers alike: Erich Dressel, a rider at Sportstätten Oberstdorf for 40 years: "These track setters are a quantum leap! With them, tracking according to the strict specifications was very easy."
"The best team in the world"
But technology alone is not everything. "We have extreme conditions, it has to be said honestly. That is a challenge for every organizer," noted German national coach Peter Schlickenrieder in view of the high temperatures. For Erich Dressel and his colleagues, the extremely soft snow was an exciting challenge: "We completely covered the wet snow with technical snow. And then it just takes know-how and the right setting of the cutter so that a fine snow surface and grippy snow structure comes out again. We have definitely received a lot of praise for our tracks!" Peter Schlickenrieder can only confirm this: "This heat is a component that you don't often have." In Oberstdorf, however, there is "the best team in the world" to prepare the trails.