Update - PistenBully 100 E
The presentation of the PistenBully 100 E, the world's first electrically driven snow groomer, caused a sensation at Interalpin 2019. And it gave everyone an enormous boost! In the meantime a couple of quirks have been revealed.But that's no wonder - the tests we've carried out with it have taken their toll. And it was worth it!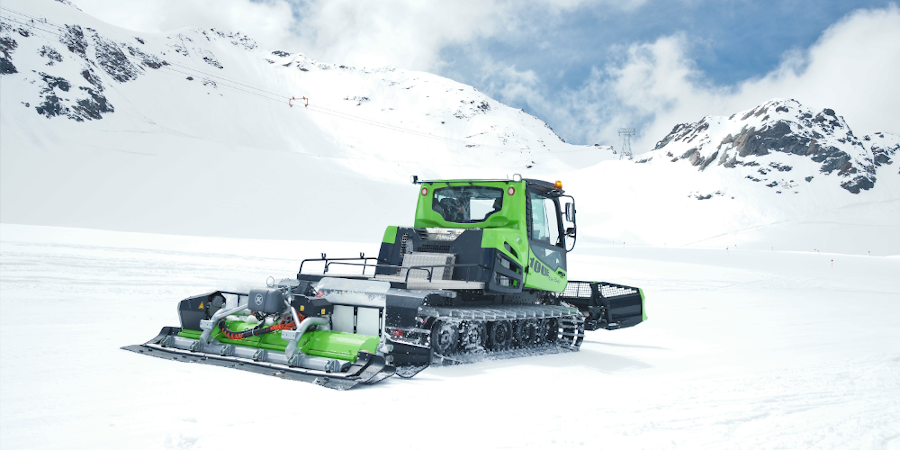 The be-all and end-all is safety
Starting with the indoor ski center and continuing over the summer on the glacier, Andreas Mayer, the lead test engineer at Kässbohrer, has been involved in the tests of this concept vehicle from the very beginning. He spends extensive time driving the small green PistenBully up and down the mountain. Purpose: to collect abundant data with the aim of further optimizing the vehicle performance curve. Most importantly, this includes component tests to guarantee the safety of the vehicle, whether it is the planetary drive or, of course, first and foremost the high-voltage battery.
Various scenarios
A comprehensive picture simply requires many tests. For this purpose, all conceivable applications are simulated, i.e. test drives with graduated speeds, varied rpm, tiller settings, etc.
And all under the most diverse conditions possible. That's why the PistenBully 100 E has now been back in the snow for several weeks to prove itself under different slope and snow conditions.
The results!
There is no question that it is at home in the snow. The fact that it is impressively quiet and you only hear the whirr of the tracks is still unusual - but that's something you like to get used to!
Currently all measured data are intensively evaluated in order to fine-tune some components even further and define their power requirements in the most advantageous way. And then we are looking forward to the feedback next winter!