Simplicity wins!
What Kässbohrer is known for: Listening in order to understand suggestions and requests from its customers and then implementing them – and getting it right. As each of us knows, technology is evolving every day and opening up new opportunities every day. We at Kässbohrer have taken great advantage of these opportunities over the summer by further refining the user-friendly navigation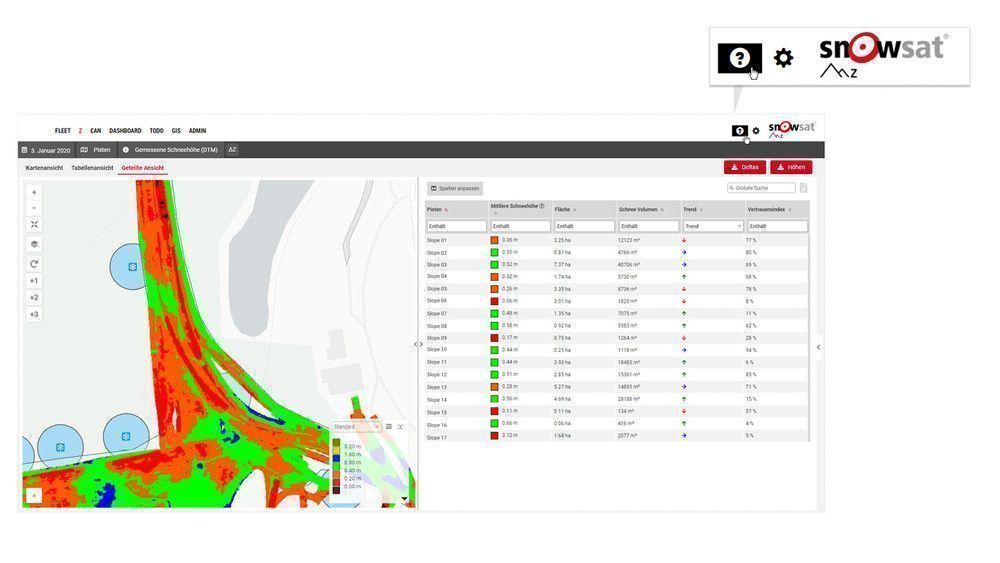 Just click your way through
As soon as you start up SNOWsat, it is clear to see that the navigation has become even easier and the screens are uniform. You click your way through the applications intuitively. This makes workflows even smoother and helps you call up the information you need quickly and efficiently. New expanded views provide additional information – in a way that is intuitive and easy to understand. Once you've used it, you'll never want to work without it again – it's just that easy.
Help is just one click away
And if you still get lost despite all the simplification, you can get to the new SNOWsat online help from any screen. It provides information on how to use the currently displayed view. The information is specific and focused, meaning you don't need to scroll or search.
Kässbohrer relies fully on SNOWsat as a reliable partner in software development – with products that are specifically tailored to our industry. We need customer input so that we can live up to our standard of offering comprehensive solutions that provide real added value in everyday practice. This is the only way for SNOWsat to keep its promise of being a strong partner in the digital future as well. And it delivers!
Now new and free of charge: SNOWsat Maintain Basic

As of October 2020, a free version, SNOWsat Maintain Basic, is available to all PistenBully customers. The benefits of SNOWsat Maintain Basic include the following:
Digital service log of the PistenBully vehicles
PistenBully maintenance schedules including automatic reminder function
Centralized provision of all vehicle-specific documents
Simplified spare parts ordering (interface with PistenBully spare part online store)
The use of SNOWsat Maintain Basic is a free expanded service of Kässbohrer Geländefahrzeug AG. Take the opportunity to acquaint yourself with SNOWsat Maintain Basic.