Managing GIS data
Easily, accurately, digitally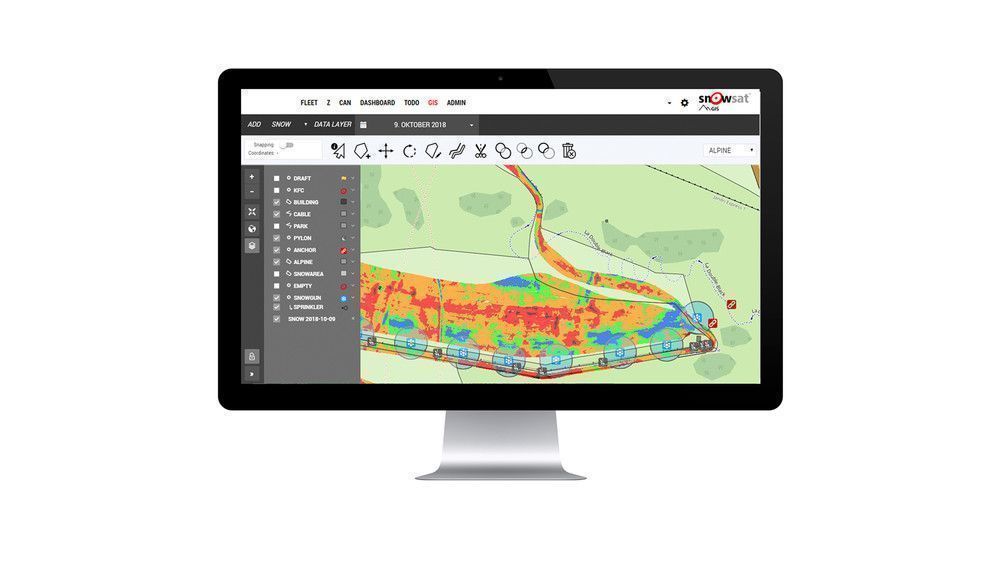 Whether slope grooming, snowmaking or management is the issue – the SNOWsat GIS Data Manager is an indispensable tool for the entire team. Geospatial data can be managed and updated easily in this software. The result is a perfect, comprehensive map of the ski area that everyone can work with.
It has never been this easy – Adapting and managing GIS data
The geographic information system (GIS for short) of a ski area includes all spatial data relevant to everyday work: profile of the terrain, slope edges, positions of the snow guns, areas to be covered with machine-made snow, anchor points for winch cats, roads, buildings and much more. This GIS data serves as the basis for all business cases (construction activity, creation of snowmaking and grooming plans or statistics) in the ski area. In the past, a surveying company had to be commissioned to manage this data. Thanks to the GIS Data Manager, a new digital SNOWsat solution, the employees in the ski area are now able to update this data on their own.
How the SNOWsat GIS Data Manager works
The SNOWsat GIS Data Manager is a solution for managing the GIS data in the ski area. Data points are either added manually or recorded using the snow groomer. Vehicles equipped with SNOWsat are capable of recording anchor points or positions of snowguns, for example. In addition, they can follow slope edges. The user can then adapt the existing slope edges to the recorded driving paths using the software and thus update them. An accurate map of the entire ski area is created that is automatically available not only in the office but also in all snow groomers.
Maximum precision and efficiency in snowmaking
In the SNOWsat GIS Data Manager, plans for snowmaking can be created, and areas to be covered with machine-made snow can be defined. A snowmaker or slope manager compares the current snow conditions to the plan. They can derive concrete measures for snowmaking and slope grooming from this plan. At the same time, the software supports coordination between teams as all responsible persons have access to the data. Working with the snowmaking plan not only increases efficiency in the ski area but also reveals new opportunities for saving money. A true all-in-one solution!
Preliminary conclusion: The SNOWsat GIS Data Manager is an indispensable tool!
Cédric Degraeve is in charge of snowmaking in the Saint-Gervais ski area in France. Since last winter, his team has been using this new solution—and he is enthusiastic about it: "The data helps us to identify critical areas early on and to adjust our snowmaking and slope grooming activity with a clear focus. The software simplifies communication between the teams and provides the basis for efficient collaboration!"