Choosing efficiency!
SNOWsat Maintain digitalizes maintenance processes, improves communication and uncovers potential for improvements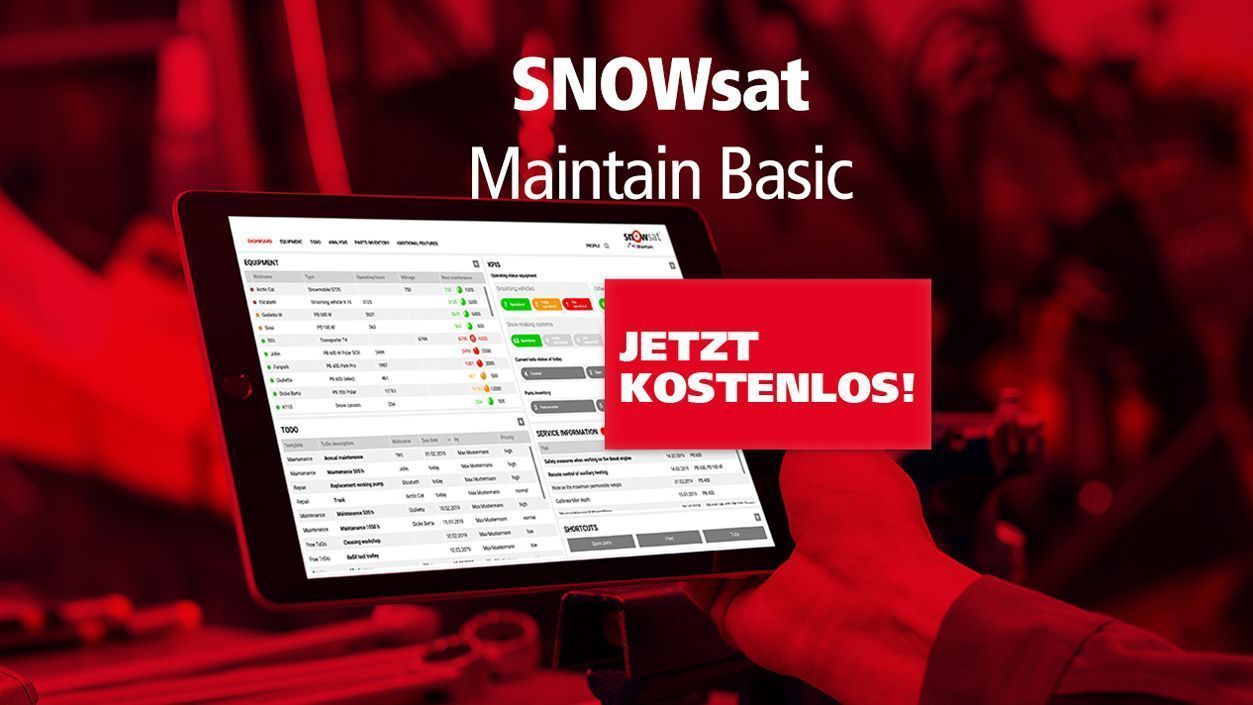 A lot of important information about equipment such as the vehicle fleet and the snowmaking systems, tends to get lost in a flurry of papers. Looking up information is often time-consuming and frustrating. SNOWsat Maintain digitalizes maintenance processes, improves communication and uncovers potential for improvements. The result: a happy team, maximum planning reliability and efficient processes over the long term.
Developed together with customers
"We wondered how we could support our customers in the maintenance management area while at the same time creating an interface with us as a manufacturer," says Product Manager Julian Reichle to explain how SNOWsat came into being. After intensive collaboration with customers, it became obvious that what had been missing was a user-friendly, intuitive solution for managing service information and for scheduling and documenting maintenance processes. SNOWsat Maintain was created as this solution. The high degree of integration with other SNOWsat solutions, such as snow depth measurement and fleet management, rounds out the application.
Intuitive management, efficient communication
SNOWsat Maintain provides the option for centralized management of all maintenance activities in the ski area. The digital service log documents the maintenance activities that are carried out, and other efforts, without gaps. The graphic display provides a quick overview of the current status of all vehicles and installations. Thanks to the mobile application and the SNOWsat app, all members of the team can access the data at any time. Users can exchange information from any area and in real time using the integrated task management. Cyclically recurring tasks can be created and assigned automatically. Automation makes processes leaner, faster and more efficient.
Thanks to SNOWsat Maintain, know which vehiclesare ready to operate at any time
Which vehicles and pieces of equipment are available? Can all operators start their shifts as scheduled? When opening all slopes in the morning, it is vital to have an overview of all vehicles and systems. Using SNOWsat Maintain, the slope manager will see early in the day which vehicles are available. The manager can use this information to dispatch the snow groomers in a timely manner and reliably. Furthermore, the operators can use the SNOWsat app to record irregularities, even at night, and report them directly to the workshop. SNOWsat Maintain gives you more efficient maintenance management with significantly reduced downtimes.
Now new and free of charge: SNOWsat Maintain Basic
As of October 2020, a free version, SNOWsat Maintain Basic, is available to all PistenBully customers. The benefits of SNOWsat Maintain Basic include the following:
Digital service log of the PistenBully vehicles
PistenBully maintenance schedules including automatic reminder function
Centralized provision of all vehicle-specific documents
Simplified spare parts ordering (interface with PistenBully spare part online store)
The use of SNOWsat Maintain Basic is a free expanded service of Kässbohrer Geländefahrzeug AG. Take the opportunity to acquaint yourself with SNOWsat Maintain Basic. For further information click here.