SNOWsat Maintain
Paper chaos and complex documenting are things of the past. SNOWsat Maintain tidies things up at the workshop the right way!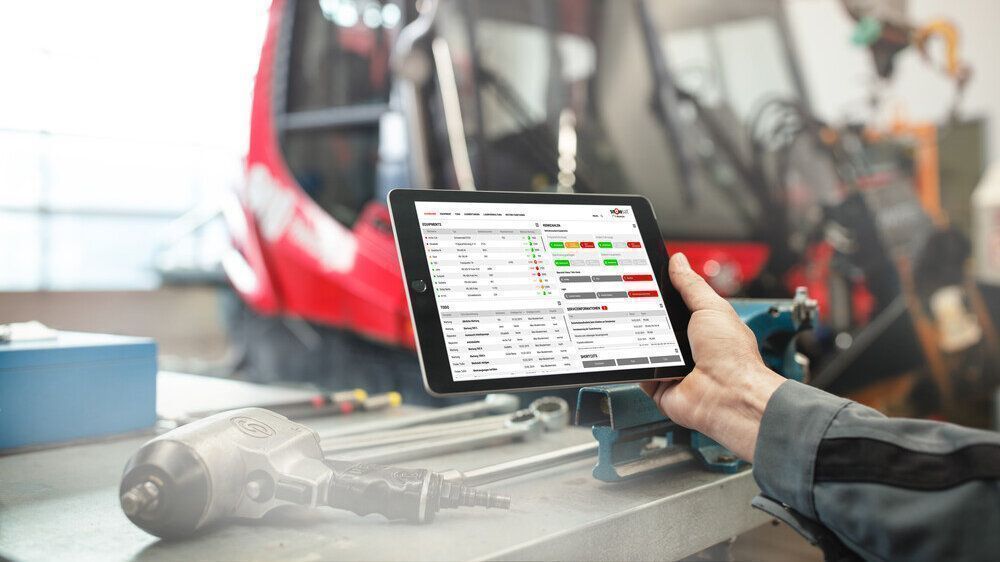 From the digital management of all vehicle data to integrated task management all the way to detailed cost summaries: The latest solution from the in-house Kässbohrer software engineers contains everything that matters at the workshop.
Developed together with customers
The idea for SNOWsat Maintain came into being during the summer of 2017. "We wondered how we could support our customers in the maintenance management arena while at the same time creating an interface between ourselves as a manufacturer and our customers," says Julian Reichle, SNOWsat Product Manager. To find an answer to this question, representatives from various ski areas were invited to Laupheim, Germany, to visit Kässbohrer. Together, OEM and customers worked out requirements and ideas for the new SNOWsat solution. During the development process, customer visits were always on the agenda. During these visits, progress on the solution was discussed and feedback was gathered. "The only way that we could ensure that SNOWsat Maintain perfectly met the real-world requirements of the ski areas was through close collaboration with our customers," Reichle says. In the meantime, the SNOWsat Maintain cloud-based application has already been successfully installed and is in use at the first ski areas. It is now providing teams with support during preparations for the new season.
Easy management of all vehicle and equipment data
All relevant data on vehicles, auxiliary equipment and systems is stored centrally and digitally in equipment management. You can easily retrieve information at a click. In addition to that, a signal light function displays at first glance which machines and systems are available and what their operating status is. The complete history of the equipment is stored in the digital service record. Additionally, upcoming maintenance is displayed. This guarantees planning reliability, reduces downtimes and ensures the consistent availability of vehicles and other equipment.
Full transparency and the same state of knowledge for all
Maintenance and repairs, maintenance costs as well as tasks that occur on a daily basis – at a workshop, there's a lot that needs to be documented. SNOWsat Maintain supports communication within the team and contributes to more efficient operating procedures – whether at the computer, tablet or using the SNOWsat app with the smartphone. All open items on the to-do list, maintenance procedures and procurement processes can be managed in the system so everyone can access them. The result: the same state of knowledge for everybody and an up-to-date overview of pending tasks. Find all information about the new SNOWsat solution here!