SNOWsat LiDAR
Knowing the exact depth of snow beneath the vehicle while grooming was a revolutionary step forward. In future, the vehicle operator will be able to know what's ahead: SNOWsat LiDAR registers the snow depth a whole 10 – 40 meters in front of the pusher blade.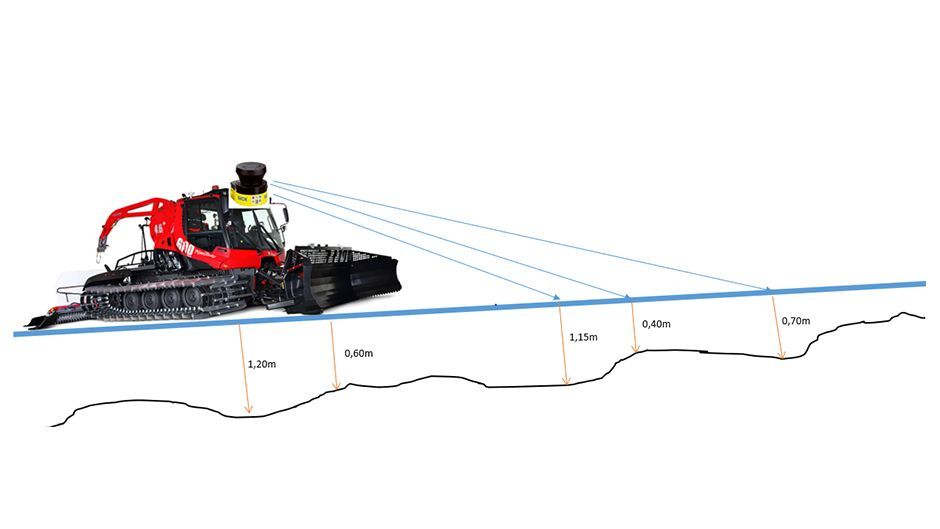 Kässbohrer has been a player in this sector for 50 years. Its pioneering spirit and inquisitiveness are legendary.
In all that time, the company has worked incessantly on ways of grooming the perfect ski run. Right now, Kässbohrer is focused on developing a system for measuring the snow depth AHEAD of the groomer. In future, state-of-the-art laser technology will measure the snow depth up to 40 meters in front of the vehicle. A laser scans the terrain in real time, with up to 300,000 dots per second. Colors are used to visualize the different depths of snow.
This color coding on the monitor enables the operator to control the pusher blade even more accurately and spread the snow more efficiently. The prototype of this SNOWsat world's first premieres at this year's INTERALPIN after being put through its paces during last winter – with the optimum support of development partner Weiße Arena Bergbahnen AG, Laax, Switzerland, and the team headed by Martin Hug. The objective now is to continue evolving this radically new technology up to series-production maturity. Customers can expect a huge step forward in operator assistance. As always, anticipation adds spice to life.