SNOWsat Customer Day
SNOWsat's range of functionality is always expanding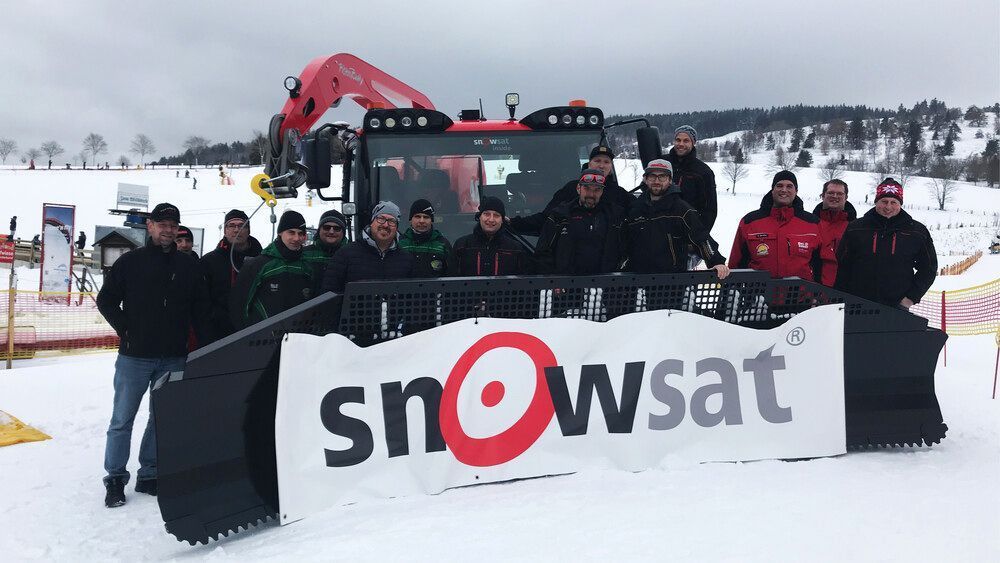 What began as a system for snow depth measurement has quickly developed into a comprehensive digital data capture and analysis tool, offering countless benefits to its users. These benefits were showcased in more detail at the SNOWsat Customer Day in Willingen: the team of experts vividly explained how SNOWsat helps ski resort operators and drivers with their daily challenges.
SNOWsat in practical use
In addition to the vehicle provided by the Willingen ski resort, a brand-new PistenBully 600 W Polar with an in-built SNOWsat system was also available. Short test drives were used to show the functions that SNOWsat offers for drivers. SNOWsat ToDo, for example, provides a clear display of required tasks on the map. These can be marked as complete with a tap once done. The SNOWsat team also explained snow depth measurement on the blade in detail, which has been available since last season. They demonstrated all the advantages of the different functions and clarified how this helps drivers when snow grooming. Evaluation and planning options in the office "What do I need to do to offer guests perfect snow conditions from the first to the last day of skiing?" – this key question was answered at the second station. The experts used a computer to show the analyses SNOWsat can perform and how the program can be used for a detailed cost overview and transparency. Based on snow volume calculation and the displayed snow availability, SNOWsat can be used to make targeted use of the existing resources.
SNOWsat ToDo was also examined in closer detail from the manager's perspective
Task management gives users high planning security and task transparency, as well as the necessary overview: are all required tasks completed, allowing the slopes to be opened safely and on time the next morning? Support from experienced SNOWsat customers Arnold Holl, Manager of the Jungholz ski resort and a long-term SNOWsat fan, accompanied our SNOWsat specialists to Willingen to answer questions from the interested guests. He reported on his many years of experience with SNOWsat and how SNOWsat helps to make resource use more efficient. This resulted in an open exchange of experiences to the benefit of all participants.
Conclusion: Varied functions and a lively discussion
By the end of the day, the enthusiastic attendees agreed: SNOWsat is an important tool within the digitalisation of the ski resort, which makes snow grooming more efficient and more sustainable. The use of measurement and analysis data facilitates optimum use of existing resources. Consistently high slope quality is also guaranteed – from the first to the last day of the season. Swapping experiences with colleagues is the perfect occasion to learn about different working methods and to gain new ideas, perspectives and points of view for your own resort.