Perfect Overview
SNOWsat ToDo goes to the next level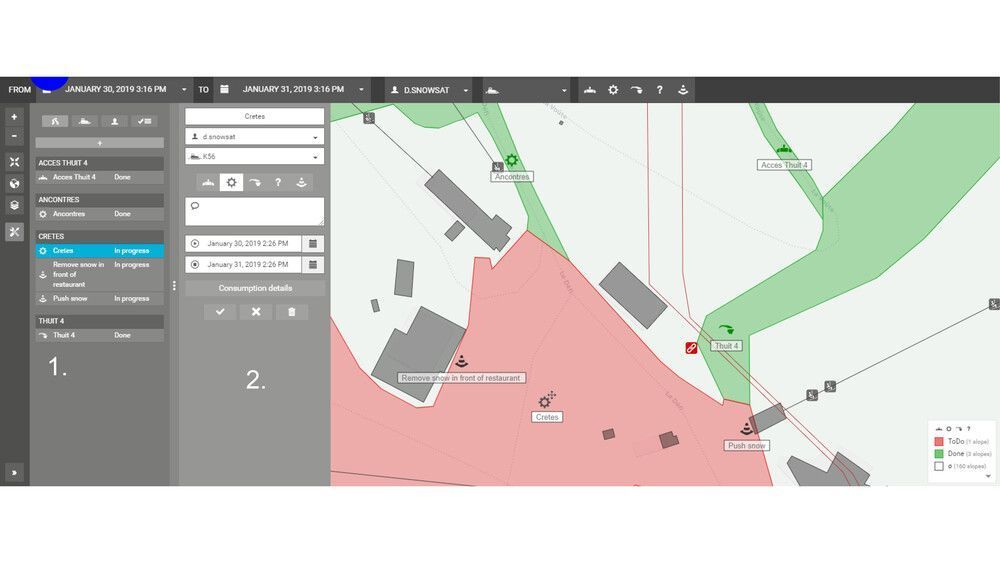 Slope- and fleet managers can use the latest version to define tasks quickly and easily for entire slopes or just sections. Thanks to an improved visualisation, drivers can see directly where something needs to be done. The improved overview of outstanding tasks provides planning security and helps to avoid extra trips.
Grooming plans for a faster overview
Slope managers can now select slopes or slope sections and highlight them for action using SNOWsat ToDo on their computer. This also works on a tablet or smartphone when they're out and about – direct from the slopes. Drivers are then informed about the selected areas using colour highlighting on the maps in the vehicle system. This enables them to see the sections that require action at a glance. A key shows what needs to be done, e.g. work with the tiller or winch. Already created plans can also be saved as templates. If the weather and snow conditions are similar, the piste manager can easily call up the plans and reuse the specifications made with a mouse click. This saves him time when creating work plans. Existing templates can also be edited and saved as new templates.
At the right place at the right time: task assignment
Slope- or fleet managers can assign a task or a section directly to a specific driver or a specific vehicle. If special equipment is required – blade, tiller, winch, etc. – this can be defined when a task is created. The ToDo is only displayed in vehicles with the right equipment.
More efficient communication thanks to digital support using SNOWsat ToDo
SNOWsat ToDo is already a proven tool in many ski resorts: task management helps the fleet get organised and retain an overview of outstanding tasks. SNOWsat ensures fast communication between slope managers and drivers – digitally. In addition, information and tasks can be exchanged easily between the individual work shifts, such as the evening and morning shifts. This is how SNOWsat helps you avoid extra trips with the vehicles, increasing grooming efficiency overall. SNOWsat ToDo provides high planning security, guaranteeing consistently good slope quality for your ski resort guests at all times.